Touch Wood Rings
[ Follow Ups ] [ Post Followup ] [ Green Weddings ]
---
Posted by Nicola Finch on May 21, 2005 at 00:21:08: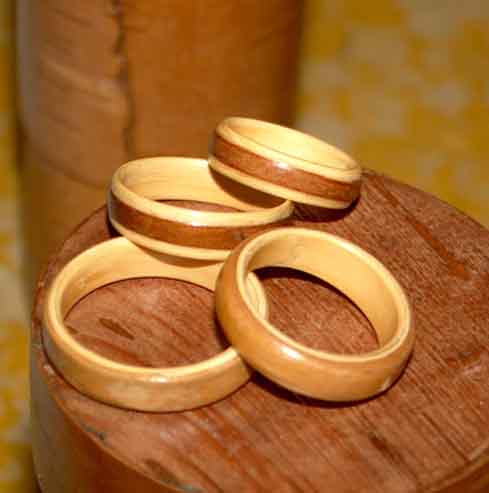 Those of us committed to protecting and preserving the environment can make a small statement by wearing wood. Touch Wood pine and birch rings are crafted from local wood, from our own property. David creates each ring by hand with handcrafted tools and hours of hand rubbing.
Touch Wood rings feel wonderful; these rings never become cold on your hand. The wood is warm and the rings are very light - so that you barely know you are wearing it. The surface is smooth and the look is natural. Wood will not outlast gold, but wearing a band of wood will connect you with the natural world. You will be 'touching wood' whenever you wear the ring.
We believe that community and environmental sustainability will only happen when we each take action & make changes, however small. Let your Touch Wood Ring be a gentle reminder of your commitment to simple living.
---